Ongoing information regarding the COVID-19 Virus spread and TCI Preparation. (Scroll for useful links, and daily news updates).
Flu-like symptoms: fever, cough, shortness of breath, aches & pains. Other symptoms can include nausea, diarrhea, sore throat, new loss of taste and smell. I recommend that you monitor your temperature daily and pay attention to your overall health. An elevated temperature of 100 degrees or more could indicate that you have COVID-19. Please keep in mind that you are contagious BEFORE you have symptoms, so it is imperative that you act as if you already have the virus anywhere you go, which includes wearing a mask in all public spaces, especially where social distancing cannot be achieved.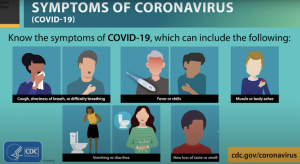 When should you call the doctor?
You should not be afraid to consult your physician at any time. Monitor your temperature and call them if you see an elevation in your base temperature and feel other signs of illness. They will discuss with you your next best course of action. If you have mild symptoms, this will include staying at home, isolating yourself within your home to have as minimal impact on others as possible, and monitoring your symptoms. If you do not have a primary care provider, you can call the MDI Hospital Hotline at 207-801-5900.
The CDC has credited a web-based evaluation tool to help you navigate whether you should seek additional care or monitor your symptoms at home. This tool does not replace 911 but may be useful if you feel changes in your health. The tool can be found here.
When should you call 911?
911 is there to help if your breathing changes and you feel as though it is becoming difficult to breathe. If this happens, call 911 immediately so we can help facilitate your transfer off the island to definitive care. COVID-19 is a complex disease that affects your lower airway significantly, which leaves you starving for air. If you feel as though you truly have to work to breathe; you are using more muscles than usual to take a deep breath; you are short of breath while resting and having to prop yourself to take a deep breath, than you should call 911 immediately. Do not delay your care.
The Cranberry Isles Rescue Service has a limited ability to deal with severe respiratory distress. In extreme cases, the CIRS must rely on LifeFlight and Northeast Harbor Ambulance Service to provide definitive care to secure an airway.
Useful Links
Executive Order 55, Outlining continued opening measures for the State of Maine and updated mask requirements.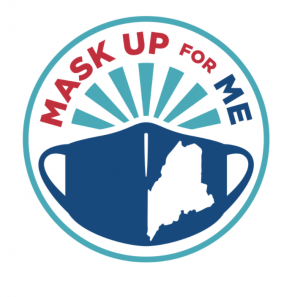 TCI:
Cranberry Isles Rescue Service, BinaxNow Rapid Testing Information November 18, 2020
TCI Policies and Guidelines May 5, 2020
LHO Fact Sheet April 7, 2020
TCI Public Health Notice, March 20, 2020
Cranberry Isles School Website  The Cranberry Isles Schools will reopen for in-person instruction on Tuesday, September 8, 2020.
Updates from Superintendent Gousse
MOUNT DESERT ISLAND
Mount Desert Island Community Response Website (helpful links, information, request help and volunteer to help.)
Federal & Global Resources
World Health Organization Frequently Asked Questions
*Click pictures to enlarge.
November 18, 2020
Binax Now Rapid Testing Information
November 5, 2020
New Executive Order requiring Maine people to wear face coverings in public settings, regardless of the ability to maintain physical distance. 
September 3, 2020
The Cranberry Isles Schools will reopen for in-person instruction on Tuesday, September 8, 2020.
Cranberry Isles School's Website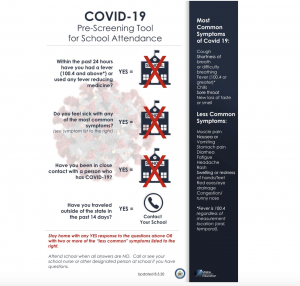 August 17, 2020
The Maine CDC has linked an outbreak of 24 cases to a wedding reception in Millinocket. 
July 30, 2020
The uptick in COVID-19 cases in Hancock County appears to be due to the arrival of migrant workers out of Florida in support of the coming blueberry harvest.
These cases have been attributed to Hancock County's totals even though previous out of state travelers who have tested positive in Maine have counted toward the totals of the community in which the person claims as their primary residence. It is my understanding that these individuals were not tested prior to traveling to Maine and did not complete a 14-day quarantine. Both of these issues are under investigation by our local Emergency Management Agency.
Please continue to remain vigilant, wash your hands, and only travel for essential purposes. 

July 28, 2020
Governor Mills is easing restrictions on the 50 person limit for outdoor gatherings. The new limit is 200 with some restrictions on the spacing of family groups, crowd density etc.
The Governor's restrictions can be reviewed here. 

July 14, 2020
Governor Mills announced increased testing abilities to include "Swab & Send" sites around the state.
June 30, 2020
May 29, 2020
Governor Mills has issued a new executive order that begins easing some restrictions in accordance with the previously published reopening plan for Maine. 
The order still requires cloth face coverings be worn where physical distancing cannot be achieved, as well as adds that cloth face coverings must be worn at large gatherings even if those gatherings are held outside.
The full executive order can be viewed here.
May 13, 2020
Governor Mills extended the State of Emergency through June 11, 2020.

May 8, 2020
Governor Mills introduced a rural reopening plan.
May 7, 2020
Governor Mills announced today that the State of Maine would be able to triple statewide testing capacity, hopefully by next week.
A Portland Press Herald article outlining the increased testing capacity can be found here.
The order and an explanation of the order can be found here.
April 23, 2020
Governor Mills has enacted a mandatory quarantine order on anyone traveling to Maine. She has also suspended all short term rentals such as Air Bnb's, ARBO, as well as hotels, and RV parks.
More information is linked above.
Governor Mills is working to protect Mainers by bolstering General Assistance as well as SNAP and TANF benefits. 
For more information on general assistance, you can call the Town Office at (207) 244-4475 and leave a message. Other benefits can be accessed via Maine.gov. 
April 2, 2020
The stay at home mandate went into effect today.
March 31, 2020
Governor Janet T. Mills issued a stay at home mandate today, March 31, 2020.
March 30, 2020
US CDC Travel Advisory for New York, New Jersey & Connecticut.
March 29, 2020
Bangor Daily COVID-19 Update for 3/29/2020
March 27, 2020
Bangor Daily Update for Maine 3/27/20
MDI Hospital has suspended visitations.
March 24, 2020
Governor Mills 3/24/20 mandate to close all non-essential businesses in Maine. 
March 20, 2020
Maine.gov Resources for COVID 19 Relief. 
Updated TCI Public Health Notice. 
Maine CDC has updated its coronavirus totals for the state. They have taken the Hancock County confirmed coronavirus case and moved it to the Penobscott County as the person is a resident of Penobscott County.
March 19, 2020
There are quite a few updates today. The situation is rapidly evolving.
The Cranberry Isles Town Office is closed to the public.  They can conduct business via phone, email, and snail-mail. 244-4475.
The Town of Cranberry Isles Also issued a Public Health Notice.
Governor Mills has extended all expirations for vehicles, etc. during this pandemic. You do not have to worry about registering your car at this time. A breakdown of the emergency legislation is here. 
There is now confirmed COVID-19 case in Hancock County. 
The Beal & Bunker Mailboat will run ONE boat a day effective 3/25/20. This will be the midday mail run only.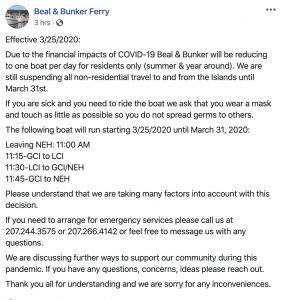 MDI Hospital has a hotline to call to discuss symptoms in case you think you have COVID-19.  207-801-5900.
Food Resources while the Mailboat is running one boat.
Food Resources:
March 17, 2020
Effective today, the Beal & Bunker Ferry has updated their daily schedule due to COVID-19.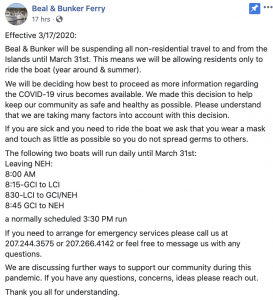 Maine CDC has confirmed 17 coronavirus cases in Maine. With evidence of community spread in Cumberland County.
March 17, 2020 briefing from Dr. Dora Ann Mills of MaineHealth. 
President Donald Trump and the United States CDC have asked that people not congregate in groups larger than 10. Please take these precautions seriously.
March 13, 2020
Dear MDIRSS AOS # 91 Parents and Families,
This afternoon I met with the entire administrative team, a school nurse, local public safety (police/ fire) officials, a scientist from the Jackson lab and a representative from MDI hospital.
Based upon scientific data, guidance from experts in the field and the unanimous consensus of the entire administrative team, I believe the immediate closure all MDIRSS AOS # 91 schools at this time is not only prudent but critical to support the health, safety and well – being of our students, staff and communities. To do otherwise represents a serious risk and overt threat to public health and safety.
Given the scientific data and evidence at hand, it is imperative we close all MDIRSS AOS # 91 schools immediately to mitigate this pandemic and limit further potential exposure. I understand the ramifications of this decision and have carefully weighed the implications of this action. Therefore, effective Monday, March 16th all MDIRSS AOS # 91 schools will be closed to all students/staff for a minimum of two weeks. I will reassess the situation daily and provide updates as to when we may resume regular school based operations. In support of this action I am forming two response teams to address this challenge:
1. Operational /logistical (led by Supt. Gousse)
2. Educational/remote learning (led by Julie M.)
These teams will work with staff and volunteers from throughout the district and with Julie Meltzer, me and our administrative team to develop, and implement, resources and programming to support teaching and learning from remote platforms with the goal of providing student services to the best of our ability. Additionally, we will identify roles and tasks for all employees as may be necessary so we may continue to provide services to our students.
To be clear, I do not take this action lightly and fully understand the impact on students, staff, families, employers, day care providers, community partners and others however, this public health crisis requires immediate, bold and decisive action. Unfortunately, we do not have the luxury of time and must act now to effect positive results. I have kept AOS Board Chair Heather Jones and our entire MDIRSS administrative team apprised of my thought and decision making process and rationale in navigating this challenge and hope that you will understand this difficult decision and the rationale for its necessity..
In closing, I wish to acknowledge this is a difficult time for all, especially our students and ask that you contact your building principal should you have any questions or concerns. Please continue to monitor school communications, newsletters and websites for updates and additional information. Thank you.
Respectfully,
Marc Edward Gousse, Ed.D.
Superintendent of Schools
Mount Desert Island Regional School System-AOS 91
——————————————————————————————————————————————–
The Maine CDC announced that there were two more presumptive positive cases in Maine.
President Trump declared a National Emergency to help battle the novel coronavirus. 
Organizations and events around the state are starting to close. Please prepare for interruptions to daily life. Here's a list of cancellations/ postponements due to the coronavirus. 
Current Cranberry Isles closers include the Islesford Library; which will be closed until March 31.
On MDI: The Southwest Harbor Town Office has closed to the public. Please call ahead if you have business to conduct there.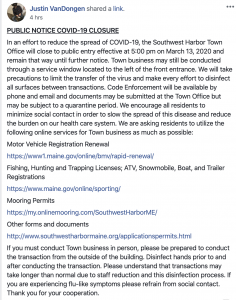 March 12, 2020
Today, Governor Janet Mills announced the first presumptive positive COVID-19 case in Androscoggin County. 
Governor Mills addressed the state in a press conference today. Here is what they covered in the press conference and what Maine's next steps will be to combat the coronavirus. 
Governor Mills declared an insurance emergency to help Mainers receive increased benefits from their insurance providers. Governor Mills also recommended that all non-essential gatherings of 250 or more be postponed for the next 30 days. This will help to curb the spread of the virus.
Please see the full press briefing for more information.
Governor Mills Update March 12, 2020
March 11, 2020
Currently, there are no positive cases of coronavirus in the State of Maine, however, testing has been very limited.
At this time I would like to urge everyone to prepare for the eventual community spread of coronavirus. It is hard to believe that the virus is not in the state, but I cannot stress enough that it will get here sooner than later. We are geographically isolated, but we boast a population from all over the world. Many frequently travel and so we are not out of the woods on the virus reaching the Cranberry Isles and having significant community spread. THE ONLY WAY we will combat the virus is to limit our contact with others. We have a pretty healthy community overall but we also have a larger older population who are at significant risk for experiencing complications because of the virus. WE must, as a community, protect our immunocompromised and elderly population.
If you are sick- stay home. Wash your hands frequently, use your 'cough pocket' (elbow). Don't touch your face. Call 911 in the event of an emergency, not your neighbors or EMTs directly. Hancock County RCC will be triaging patients to alert responders as to their risk of responding to potential coronavirus patients, which will initiate a response with proper PPE.
If you experience "flu like symptoms"- fever, dry cough, fatigue, body aches, etc. You may have the coronavirus, you may have the flu. You should call your local health care provider via phone to discuss your symptoms before calling 911 or taking yourself off on the boat to get 'tested'.  You may be asked to self-quarantine and monitor your symptoms in order to not spread the virus.
IF YOU DON'T HAVE A PRIMARY CARE DOCTOR, please contact an urgent care facility or your local emergency department via phone.
CDC Information on what to do if you are sick. 
Now is a good time to think about what you would do during a potential two-week isolation. Plan accordingly by gathering medications, essential supplies, pet food, even plan activities to combat boredom.
If you have questions, you can call 211. Or locally you may contact Katelyn Damon at (207) 479-8118, katelyn@cranberryisles-me.gov for information.
In US News, the community of New Rochelle, New York is on lockdown. The National Guard has been called in to help manage the containment area.
March 10, 2020
CDC Information for high-risk populations. 
World Health Organization (WHO) information on protecting yourself from coronavirus spread. 
Latest global news.  All of Italy has been placed on total lockdown to help slow the spread of the virus.
March 9, 2020
The coronavirus continues to spread throughout the United States, with over 500 cases reported as of today, March 9, 2020. There are currently no confirmed cases in Maine, but it inevitably will happen.
The consensus continues to be the same, wash your hands, don't touch your face and stay home when you are sick.
Dr. John Campbell out of England is using Youtube as a medium to breakdown a daily update on the coronavirus spread around the globe. I have found his daily updates very informative. Please take a listen.
Dr. John Campbell- Monday, March 9, 2020 (Youtube)
March 5, 2020
In world news, Italy is closing all schools to help stop the spread of the coronavirus. India is stopping exports of antibiotics and other over-the-counter drugs. 
March 4, 2020
Public Safety Coordinator, Katelyn Damon is monitoring ongoing information released by the CDC, Maine EMS, Maine DHHS, Hancock County EMA, among many other sources.
The virus spreads through human to human transmission via respiratory secretions and contaminated surfaces. This virus is a Novel Coronavirus. The common cold is a coronavirus, but this virus is new and we do not have immunity to it. We should take this virus spread seriously as it is very contagious.
Signs and symptoms of the virus include:
Fever, coughing, Shortness of breath, extreme tiredness and muscle pain.
Symptoms are typically showing up 2-14 days after exposure. Symptoms can range in severity. Children have been faring well and may be asymptomatic in some instances. Older adults with underlying medical conditions such as diabetes and hypertension are exhibiting severe reactions to the virus.
The best way to reduce your likelihood of contracting the virus is to stay home, avoid crowded areas, and practice proper hygiene.
Proper hygiene includes avoiding touching your face (mouth, eyes, nose) and washing your hands for 20-30 seconds with soap and water regularly. You will also want to disinfect common surfaces (doorknobs, faucets, bathroom fixtures, phones, remotes, etc.) The virus is easily killed with bleach or other common disinfectants. (Lysol, etc.) You will want to pay close attention to the manufacturer's recommendations on contact time with non-porous surfaces. This means that you will want the disinfectant to remain in contact with a surface for a length of time- before wiping it off. Please see your specific product packaging for that length of time.
Here's a great video on hand washing: https://youtu.be/1AGW3bbcb3Y
I'd like to suggest that folks prepare for some disruptions to daily lives. This virus has started to spread in the United States with new cases popping up daily. Given projections, we can be reasonably assured that this virus will make routine tasks challenging; such as shopping for essential items, travel and childcare.
As with any large weather event, we prepare for being isolated for a few days. I'd like to ask community members to take stock of basic essential items and consider purchasing supplies such as animal feed, toilet paper, dry and canned goods to last a couple of weeks in the event that there is a major disruption to shipping and manufacturing in our area. We may find ourselves 'sheltering in place' to avoid contamination if the virus spreads. This, of course, is the absolute worst-case scenario. I am hoping like all others that we can contain the spread of this virus and gain access to vaccinations prior to the virus reaching us. However, I am of the mind that we are all better safe to prepare than to face a potential crisis unprepared.
Please read more information on preparation for many emergencies at Ready.gov.
Please feel free to contact Katelyn Damon, if you'd like to discuss this topic further, by calling/ texting (207)479-8118 or emailing katelyn@cranberryisles-me.gov
https://www.cdc.gov/coronavirus/2019-ncov/about/transmission.html?fbclid=IwAR1WyFViQcrvSn2YSGPJiZe6rzeOSluuWOxvvHKRuPl_3InbAY_d7T5q-Tg
Maine DHHS Disease Surveillance :
https://www.maine.gov/dhhs/mecdc/infectious-disease/epi/airborne/coronavirus.shtml
New York Times, map of infections. 
https://www.nytimes.com/interactive/2020/world/coronavirus-maps.html